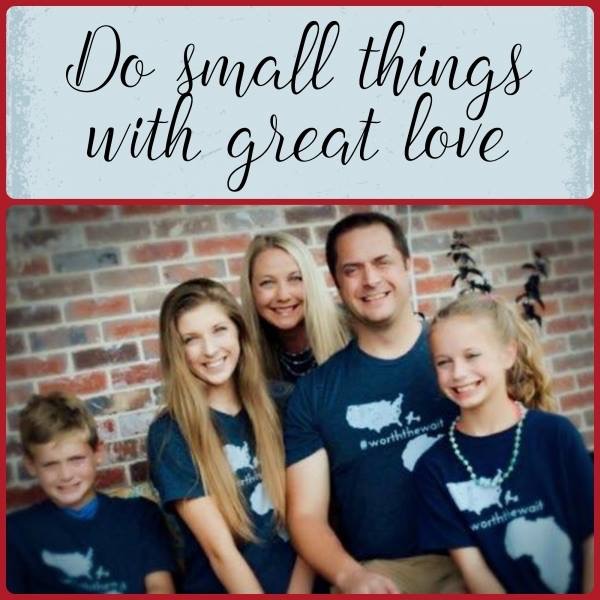 Hi There! We have teamed up with Gobena Coffee to raise funds for our Adoption. 50% of everything you purchase will go towards our adoption fund. Thanks for your support and enjoy the fresh roasted coffee! Also if you spend over $50, you get free shipping!
Have you heard our adoption testimony?
Ever since I was a child, I've had a nudging in my heart to look to His most vulnerable. I've ALWAYS and I mean, ALWAYS had a heart for orphans, and for Africa, in general. I chose Nursing as my major in college, with mission trips in mind. Though God had other plans with marriage to my high school sweetheart just after college, followed by 3 amazing bio kids, the tugging at my heart to give more, because of how much I'd been given, was always there. After all, adoption was God's idea, from the beginning… "The gospel in my living room", as author Katie Davis says (Kisses From Katie).
As I continued to work in a hospital as an RN, I'd research mission trips during the night, when I'd have quiet time on my shift. There was never a specific call that I heard, until I met my friend, Christy, through another RN friend. She had visited Uganda 4 times, prior, working with Project Hope orphanage in Lira, UG, through her church. She had also adopted a little boy from UG. She was planning another trip, a year in advance. I KNEW I had to go. This was my call to be His hands in feet in ways I could only begin to understand. While there, we volunteered at the babies' home where her son had lived. We also worked with the incredible organization, Sole Hope, Inc.
During my two weeks in UG, I honestly was processing SO much, that adoption, at that point, wasn't completely on my radar – I mean, it was always there, just not at the forefront, at that moment. I was incredibly overwhelmed with the despair, the poverty, and the stunted growth of the babies I saw and held. The developmental delays, that only come with lack of stimulation and LOVE. I returned home from that trip, last June (2015), with a bit of reverse culture shock. By October, my husband and I KNEW the time was right. I looked back over the months before, how I'd wrestled with God with the timing of saying, "Yes." I think we both always knew we'd say yes, we just didn't know when.
We contacted the babies' home where we'd volunteered and asked if there may be a child there, with no hope of resettlement (which should ALWAYS be the first priority!). To my surprise, the director of the babies' home told me of a little boy I'd been blessed to hold and rock to sleep during my trip. In fact, after being matched I realized I had an abundance of pictures with sweet T!! Such a blessing!
While we worked on accomplishing our home study and dossier, we started a fb group page to keep our families and our huge support system updated on our progress in our journey to adopt him. I crocheted scarves as a fundraiser, which brought in more than $2,000 toward our home study costs!! We set up a Pure Charity fundraising page, which has also generated over $2,000. Friends with home-based businesses donated time/resources, and some others donated. We cut back our entertainment, as a family, and included our kids in fundraising. We dropped cable, and other "extras". Home study is complete. Dossier is nearly complete. However, we don't have the funds to move forward, anymore, at this point. We are working on further fundraisers and looking at grants and loan programs. I am praying CONSTANTLY for Him to show me how to proceed, next! We know that He will be faithful to complete what He had us begin in HIm, and that He will be glorified for it! There is peace in this uncertainty! We pray that through God's provision, we will be this little boy's forever family!